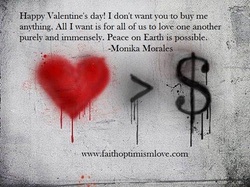 What better topic to talk about today, Valentine's Day, than LOVE!?

I feel like every day could be a Valentine's day to everyone if we just have love in our hearts. That means to have love in our hearts DAILY.

God is Love. That phrase defines me. Not because I am a god but because I want to be like my God, Jesus. Jesus is "the Third wheel" of my God. The Father, The Son and The Holy Spirit are my God.

We as humans, make love ever so complicated when it is quite simple.

1 Corinthians 13:4-8
Love is patient, love is kind. It does not envy, it does not boast, it is not proud. It does not dishonor others, it is not self-seeking, it is not easily angered, it keeps no record of wrongs. Love does not delight in evil but rejoices with the truth. It always protects, always trusts, always hopes, always perseveres. Love never fails.

The BIBLE has the answer to ALL of our problems! Why, as humanity, are we turning away from it? Why must be proud and want to do things on our own? God is clear, those who follow Christ will have eternal life. Why must we question our God so much?

Instead of questioning, why don't we simply accept him? The Church is Jesus' "wife." He showed us how to love. He showed us every aspect of love.

"If Jesus was NOT Man and God then we have merely been deluding ourselves for 2013 years."

If that quote doesn't smack you in the face, I don't know what will. That quote is something to ponder....

Please just start by loving yourself. Then, love your neighbor as yourself.... That is the solution to all our Earth's problems. Plan and simple.

Love to you all! :) FOL <3
God bless!