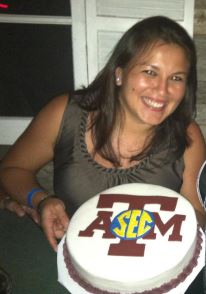 Today, I chose to write about birthdays.

It is a very important and special persons birthday today. Well, at least she is to me. It is My Godmother's birthday. My second mom's birthday! :) I love that lady!

Okay, so I try to never really make a big deal of my birthday's but they've always turned to be a good time. I love birthdays! How can anyone not like birthday? Who doesn't need an excuse to party? ;)

Recently, I read that some people don't believe in New Year's Resolutions.I thought that through for a while and came up with this theory...

The new year is like our Earth's birthday. Our New Year's Resolutions are our gift to our Earth!

Doesn't that sound awesome?

I understand some people don't need to use the New Year as an excuse to start something. But, why not? Most people need more motivation in their lives. That is exactly what I considered this last New Year's as; A birthday of my Earth. That was the motivation I needed to make a difference. To start something greater than myself and see where it took me. I had two semi-serious resolutions; Brush my teeth every night and ZERO drops of alcohol. So far, so good! I'm loving it! I have other private resolutions too but those are the two I'm willing to share right now. The private resolutions have to do with my career.

Back to regular, humanly birthdays haha.... They're awesome. They're an excuse to celebrate. You can choose to celebrate your own personal birthday any way you wish. You have an excuse to have a Great Day. You have an excuse not give any fcks (excuse the French but it's a saying: to my older visitors) about ANYONE but yourself. It is YOUR day. Embrace that! I can't wait for my 27th birthday! :) Until then, I hope to celebrate as many of my friend's birthdays as possible :)

Sooo... after reading, I hope you have a better outlook on birthdays.